The Nazareth Trust traces its roots back to 1861 and is now one of the largest Christian organisations in Israel. Located in Nazareth, the Trust engages with around 400,000 people a year, including patients and their families, our nursing students, international volunteers, pilgrims, and tourists, as well as our valued staff.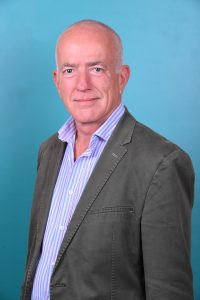 This year, the Nazareth Trust celebrates its 160th anniversary. CEO Richard Mayhew reflects:
As we reach such an important milestone, I want to take a moment to reflect: "A good man leaves an inheritance to his children's children" (Proverbs 13:22). I believe this goes beyond money: our example and our faith are also passed down to future generations. Our actions, even the smallest ones, have the potential for a long-term effect.
When I look back on our organisation's long-standing history, I see the faces of the people who have left a mark. Not only the faces of those who laid the foundation of our Christian ministry but also those who helped it grow by funding new developments. If I look even closer, I am taken back to last year, and all I see is the bravery and commitment of those who fought against Coronavirus in our hospital.
Both from the past and the present, all of them chose to dedicate their lives to follow in Jesus' footsteps, just like 1 Peter 2:21 often reminds us. Thanks to them, we can celebrate our 160th anniversary and welcome around 400,000 visitors every year. Looking towards the future, I wonder what legacy we will leave for generations to come. Specifically, the Emergency Room development project will have a great impact on that legacy. Expanding our ER to 70 beds will allow us to provide vastly improved care for our thousands of patients.
I cannot wait to see what the future holds. I invite you to join us so that we can build it up together.